Dentist Reminders by ReminderCall
Tackle no shows with calls, text messages, and emails

From your existing software! HIPAA Compliant • Encrypted
1 (888) 858-6673
Dentist Reminders by ReminderCall
Tackle no-shows with calls, text messages and emails
from your existing software! HIPAA compliant and encrypted.
Automated messages sent from your EHR, EMR, or spreadsheet!
2-Way Text Message Reminders
---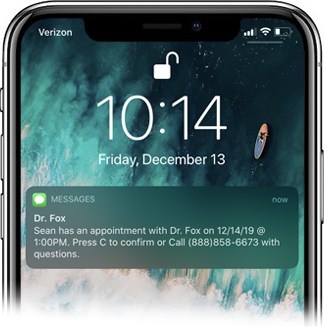 Automatic Delivery from Your Calendar
Your dentist reminders go out automatically from your scheduler and remind patients of their appointments. If we don't work with your scheduler yet, we can create a custom solution for you!
Get Patient Appointment Confirmations!
2-way text messaging makes it easy for your dental patients to respond instantly. Set up an email address to receive responses or view them live in your account.
See Delivery Status
Most companies send email reminders that are converted to text messages. ReminderCall sends real 2-way SMS text messages to your patients so you can get a live delivery status.
Want To See How It Works?
Send yourself a text message reminder!
100% Custom Reminder Calls
---
Add a Personal Touch
Choose an automated voice, your own voice, or a combination of the two to customize the messages to your patients. Choose from English, French, Spanish, male, and female voices.
Enjoy Superior Quality
Local servers and routine quality checks ensure the best possible sound. You can playback any reminder call from your dashboard at any time to hear it for yourself.
Set Up 1-Key Confirmations
Customize your keys so that one key press confirms the patient's appointment, and another key connects to your office. You can set up keys so the patient can cancel an appointment, request a call back, leave a message, or hear directions to your office.
Keep Your Caller ID
There is no need to share a generic caller I.D. Improve your response rate by letting your patients know you are on the line.
We Work With The Following Dental Software
DataCon
Dentrix G2, G3, G4
Diamond Dental
Dolphin Management by Patterson Dental
Eaglesoft by Patterson Dental Supply, Inc.
Open Dental BETA
PracticeToday
Testimonial
"When trying to choose which appointment reminder service to go with, many things may run through one's head- How great is the quality? What features and options are there? Do they offer support? What is the cost? My experience with ReminderCall has been nothing less than outstanding. I especially like the option to create customized messages for different types of appointments and the support staff was always a pleasure to speak with and eager to help when I had questions. Besides ReminderCall's great quality and excellent customer service team, it all comes for a great price- lower than any other reminder system that I have researched. I, without hesitation, recommend and will continue to recommend ReminderCall to friends, businesses, and anyone interested in an appointment reminder system."

– H. Hall, IT Specialist

Read more ReminderCall reviews.
Advanced Management Tools
---
Choose When and How Often To Send
Got repeat appointments? No problem. You can set dental reminders to go out as often as needed. Even on days when your staff is away.
Get Real-Time Statistics
Access the delivery status of all your dental text messages in real-time. Check replies and activate daily and monthly reports.
Automatically Comply with Regulations
Your internal Opt-Out/Do-Not-Call List keeps track of patients who do not wish to be contacted, so you don't have to.
Need Email Dental Reminders?
Add the Email Appointment Reminder Module to any existing ReminderCall account for just $25/mo. This includes unlimited email reminders for up to 3 locations! There are no setup fees, no contracts.
Easy Compliance
---
Let Patients Opt-In Easily
Our secure opt-in portal allows you to keep records of your patient's contact preferences while satisfying all HIPAA, Meaningful Use, and TCPA requirements.
Stay HIPAA Compliant
As a Business Associate, ReminderCall helps dentists communicate with their patients while remaining HIPAA compliant. We use the minimum amount of data needed to send patients reminders of their upcoming appointments.
Enjoy Peace of Mind
ReminderCall secures PHI (Protected Health Information) using SSL (secure socket layer) encryption–the same Internet security system that banks use.
Want to Take a Test Drive?
Try it now!
Reminder Pricing
Standard
$14.50/mo
130 Reminder Credits
per Month*
+
Dedicated Phone Number
---
1 Reminder Credit =
One Text Message or
One 30-Second Call
Additional Credits
Cost 9¢
*Does not include carrier fees or taxes in applicable states.
Free 30-Day Trial
$0/mo
1,000 Free Reminder Credits
---
1 Reminder Credit =
One Text Message or
One 30-Second Call
Volume
As low as 5.5¢
130 Reminder Credits
Billed at $14.50
per Month*
+
Dedicated Phone Number
+
Additional Reminder Credits
are Deeply Discounted
---
*Does not include carrier fees or taxes in applicable states.
Our Customers
Ascension Health
Advanced Chiropractic Wellness
Baptist Health System
CentraState Healthcare Foundation
Nor-Lea Hospital District
Northside Hospital
Try Automated Appointment Reminders with Our Exclusive Trial Offer
Try Automated Appointment Reminders with Our Exclusive Trial Offer
Creating a reminder strategy just got easier with our 30-day trial.
30-day trial. No contracts. No hassles.
Easy Integration. Great Customer Care.