Streamline Your Caregiving Workflow with Text Reminders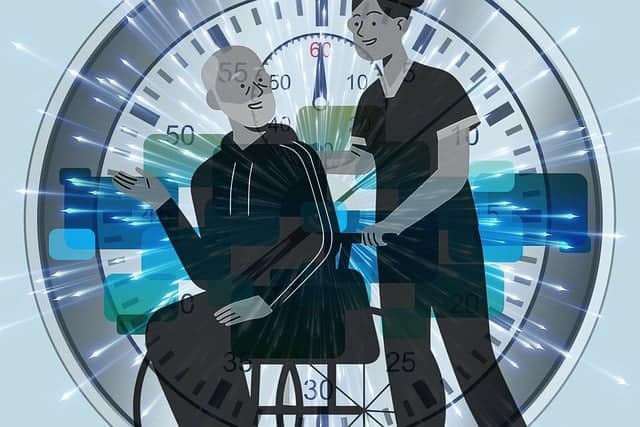 A text reminder is a straightforward concept, no matter what industry they are used in. A text reminder is a written text sent to a recipient with an appointment or schedule to keep. In the medical field, automated text reminders can be helpful in reminding patients about their appointment without requiring hands-on work by a receptionist or doctor.
Benefits of text reminders for medical professionals
You may be surprised to know how often people "No Show" for medical appointments. A ReminderCall study indicates that patients do not show up for their appointments 18% of the time. According to Forbes, that problem deepens when you realize how much money medical facilities lose on no shows. At about $200 per no show, these facilities lose more than $150 billion per year because their patients miss their appointments.
The problem is inconvenient for patients as well. A personal schedule adjustment may have been needed in order to make a less convenient time when a "No Show" occurred at a better time.
There is a solution in text reminders. Cell phone users read 98% or more of their texts, especially if they are told that they are going to get a text reminder – and most of them are seen within 5 seconds of receiving it. These statistics drive a new result: reducing no shows to less than 5% of your appointments.
The result is simple: Fewer follow up tasks for your administrative staff means that other important things can get done in a more efficient manner. While reminders are important, there are some tasks like insurance, cleaning, and much more that can't be done by an automated system.
While reminders can be done with phone calls by your administrative staff, most of them will inevitably go to voicemail. While voicemail is still a good method of sending reminders, people view their text messages more often anyway.
How to use text reminders for medical professionals
Patient Appointment and Follow Up
Text reminders can be implemented to go to patients days and hours in advance of their appointment while also giving them the option to cancel their appointment. Another benefit here is that a known cancellation can be rebooked by someone else. Follow-up tasks related to an appointment can also be set for patients and doctors.
Our text reminder system also receives confirmations from the patient, so you have a better idea of both who plans to show up in addition to those who might need some extra outreach to see if they need to cancel or if their appointment will be made.
Reminders for medical conferences and training sessions
Doctors occasionally have medical conferences or training sessions to get to. A text reminder system can help doctors know about these sessions weeks or days in advance in an effort to prepare information and avoid being unprepared or a no show themselves. Consider the use of an automated text system for the purpose of having their own calendar, but only in one system which reduces the headache of switching back and forth between types of software.
Using reminders to keep track of medication schedules and deadlines
These kinds of reminders can help both the patient and the doctor! Doctors can start a text message schedule that reminds patients to both take their medication and when to refill it. Medication is generally pretty important when prescribed – especially antibiotics, and can cause additional visits when not taken on time and completely.
A study by the National Institute of Health interviewed several hundred patients and helped reveal what patients want to be reminded about. Many participants wanted simple text reminder messages of their appointments, with 78% preferring at least that. 56% also wanted notifications that their insurance information is expiring soon, which would be helpful to avoid billing complications and bringing new cards to an appointment. Finally, 36% wanted some level of reminder to take their medication and didn't have a system of their own to create those reminders.
Both doctors and patients have plenty on their plates, and a versatile text message reminder system can keep important information and tasks from falling through the cracks.
Best Practices for using Text Reminders
Customizing reminders to fit the needs and schedules of medical professionals
A doctor has the ability to send out a reminder about just about anything and can send them internally to employees or themselves or patients. Does the patient need a reminder about when they can take a walking boot off? A text message can be sent and delivered for that. Thankfully, systems like ReminderCall can be changed and customized for whatever fits your practice.
For example, an office could set up reminders that also send a link to a patient intake form, where some personal data is gathered before the patient comes into the office for the first time. This will also help save time for staff and patients when they arrive.
Integrating reminders into the overall workflow and communication strategies
Reminders are often integrated into your existing software and customer relationship manager. The good news about this is that you won't necessarily have to learn a whole new system for the purpose of sending out text reminders. You might also find this helpful when sending out employees' schedules or anything else that can be delivered in a text format.
ReminderCall is also HIPAA compliant and has encrypted data, so your communications are safe, secure, and legal. You won't have to worry about staff using their own phones with unapproved messages for the purpose.
One of the best parts about using automated texts within a doctor's office is the ability to ensure communications go out. Some doctor's offices use whiteboards, charts, notes, and clipboards for communication. While these methods can be integrated into a text message system, they don't necessarily replace the ease of use of a device that ensures all messages are delivered promptly.
Being consistent and proactive with reminders
When you have a system like ReminderCall in place, you will have to use it to make it effective. In order to keep your no show rate down, you'll want to be sure to enable a text reminder for every patient, then potentially explain to them the process needed to continue allowing text messages. Communicating this in a friendly manner is important to ensure that patients – even those who don't want a text reminder, actually see it and follow any given directions.
There is also a certain amount of experimentation to be done: How many hours and days ahead is the most effective for your patients? You can adjust the schedule and content of your text based on what works best for you.
Conclusion
The benefits of text messaging reminders in a doctor's office or hospital are big, and often involve less of a workload and the potential for more revenue and happier patients. Automated text message and calling systems can be used in many ways to both remind patients of their upcoming appointment, and to help organize the internal workings of the doctor's office, in addition to events the doctor and staff are involved in.
Once a text messaging system has been implemented with a consistent routine, you'll see your no show rate go down, more available appointments for patients that need help, and less of a workload for your staff. All of this is better to lower the stress in your clinic while increasing revenue.